Amish Vampires In Space Hit The Tonight Show
March 18, 2014
Here's a new twist on the old adage "Any publicity is good publicity." A week ago a crazy thing happened. Within 24 hours of hitting Amazon with an updated CreateSpace version, Kerry Nietz's indie novel
Amish Vampires in Space
found itself in the hands of Jimmy Fallon on the Tonight Show.
Did I mention it was on Fallon's "Do Not Read This Book" list?
Other books on the list included a napkin-folding title, a self-defense how-to, and a cookbook. BO-RING. They garnered some laughs, but the audience roared at Nietz's novel. Fallon held up the book—with its cover of a bonnet-clad female vampire sporting long red nails—and deadpanned, "Just what we need. Another Amish-vampires-in-space book."
(Watch the segment.)
Since then Nietz's week has been more than a little wild. But the rollercoaster ride of AVIS began long before The Tonight Show reveal.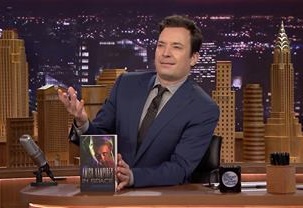 In October of last year
AVIS
was released from
Marcher Lord Press
, a small publishing house for speculative fiction with a Christian worldview. Its unique title created plenty of buzz—and some outrage from the Christian community. "I knew what I wrote and why I wrote it," Nietz says, "so I wasn't afraid of the detractors. I was confident that when they read it, they'd see. But there are an amazing amount of folks who do judge a book by its cover and title."
AVIS
received two mentions each in the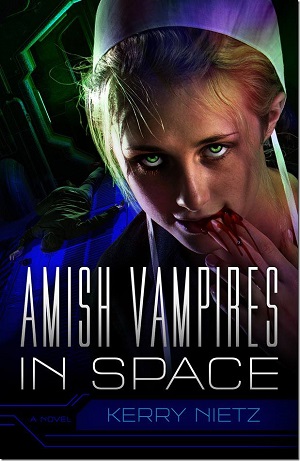 Library Journal and Publisher's Weekly. Nietz was interviewed many times, both in writing and audio. The book was mentioned on
Dave Barry's blog
, then was written up in the
Washington Post
. Both were firsts for Marcher Lord Press. A few days later it won the #1 spot on
"Worst Christian Book Cover of 2013" list
.
A seemingly bad thing, but it produced more buzz.
Meanwhile the book was garnering mostly positive reviews. (It's currently at 4.5 on Amazon, with 21 reviews.)
Then in December Marcher Lord Press was sold, and the new owner did not want AVIS in the lineup. So Nietz scrambled to self-publish the novel. It was still selling well, and he had the potential of a national radio interview. Plus, he'd spent over a year of his life writing, editing, and promoting the book.
The radio interview came through. Another up! But the host wasn't thrilled with the topic, so the interview became a "web only" feature. Down again.
AVIS
made the Digg.com list one night. Lots more chatter. Meanwhile more 5-star reviews came in, such as from
Bittenbybooks.com
and
Platypire.com
, that don't focus on Christian Speculative fiction. Nietz loved doing the interviews and interacting with the passionate readers.
The book was then nominated for the
Clive Staples Award
, honoring the best in Christian speculative fiction.

In early March, a proofer friend of Nietz alerted him to a few typos in the book. Nietz made the fixes but struggled for a week to get the manuscript through CreateSpace. Meanwhile Amazon took the paper version out of print. The night after the new CreateSpace version went live, Amish Vampires in Space was on The Tonight Show. Which was followed, according to Nietz, by a "dozens of tweets (in seven different languages and countries), and calls and emails from Hollywood types."
So—just what is this book about? Nietz says it's not a spoof, although its premise grew out of a joke. The idea originated when Jeff Gerke, Marcher Lord Press founder, mocked up a book cover featuring a bonneted gal with fangs, a spaceship, and what appeared to be a rack of Amish hats. Gerke called it the ideal Christian speculative novel. A sure bestseller! The idea became a running joke between Marcher Lord Press authors and at writers' conferences where Gerke spoke.
But the idea began to germinate in Nietz's head. He started thinking about how such a novel might be written, "minus the camp." The genre mishmash had lots of potential for conflict. The Amish are a structured people, governed by routine, rules, and tradition—as were the societies in other books Nietz had written. But outer space is rarely structured, and vampires are chaos incarnate. Also, the Amish, practicing their interpretation of scripture, are non-violent. Pacifists. Vampires are not.
Next came the premise and theme: The conflict between preserving one's self and family versus one's commitment to tradition. Then the characters started to arrive. Nietz pictured a middle-aged Amish man with a secret, and a space captain in a mundane job. A crewmember with a prejudice and an odd habit, along with an Amisher bishop with prejudices of his own. A thief, a doctor … oh, and science! Lots of science.
Thirty thousand words into the novel, Nietz told Gerke what he was writing. "After he stopped laughing," Nietz said, "he encouraged me to continue." He finished at 130,000 words, adding it was "incredibly fun to write and generally camp-free. A solid science-meets-agrarian story, with a hematophagic twist."
AVIS takes place in a future where the Amish have been allowed to colonize other worlds. One particular colony (Alabaster) has a problem with their sun that the main character, Jebediah, has been told to monitor. He then makes use of a forbidden bit of tech to summon help. Englishers (non-Amish) show up to relocate the colony. But there's a problem on the ship that no one knows about—an extra passenger in a package they picked up.
Enter the vampires.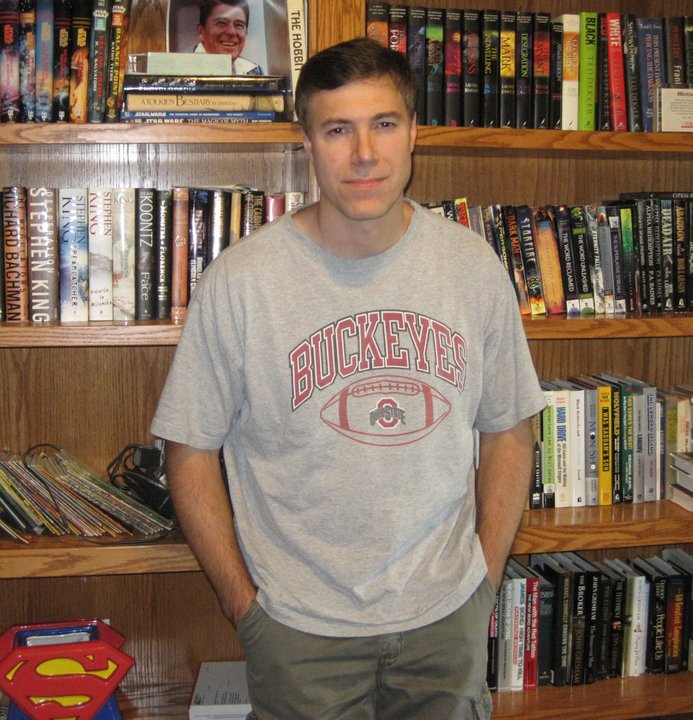 What's next for
Amish Vampires in Space
? It's currently in the 72,000s in the Kindle store. Not stellar, but it has been on Amazon's Top 100 paid Kindle list for Christian Futuristic fiction since its release, regularly rubbing shoulder with the likes of Tim LaHaye's and Jerry Jenkins'
Left Behind
series and C.S. Lewis's
Space Trilogy
. And there is even talk of a movie …
AVIS
is Kerry Nietz's sixth book. A refugee of the software industry, he spent more than a decade flipping bits—first as one of the principal developers of the database product FoxPro for the now mythical Fox Software, and then as one of Bill Gates's minions at Microsoft. He is a husband, a father, a technophile, and a movie buff. Kerry is the author of The DarkTrench Saga trilogy and a memoir entitled FoxTales: Behind the Scenes at Fox Software. Track his further work at
Nietz.com
.
© 2014 Brandilyn Collins
All Rights Reserved
Amazon Affiliate Site